The British government has amended the Travel Advisory for its citizens due to improvements in the law and order situation in Pakistan.
Pakistan Prime Minister Imran Khan wrote in a tweet on Friday: "This is certainly a good news that will pave the way for tourism and investment in Pakistan, provide jobs to our youth and provide them with Pakistan." The two most important economic problems, namely, employment and the current account deficit, will be resolved. "According to a statement issued by the British High Commission in Islamabad, law and order situation in Pakistan is improving. In view of this situation, the United Kingdom on Friday made changes to its travel guidelines for Pakistan.
The changes were made following a broad review of the UK's law and order situation. It should be noted that this is the first clear change in travel directions by the British government since 2015.
British Airways resumed its flights to Pakistan in June 2019 due to improved law and order in Pakistan. The Duke and Duchess of Cambridge visited Pakistan in October 2019.
In addition to the changes in travel advisory, British citizens have now been declared safe on road trips through the fascinating valleys of northern Pakistan, including Kailash Valley. "After taking over my responsibilities in Pakistan in December 2019, I kept the travel instruction analysis on a priority basis. Improved law and order situation during the last five years has been the result of Pakistan's exhausting efforts. I am happy that British citizens can now enjoy beautiful tourist destinations in Pakistan. "
Travel Advice issued by the British Foreign and Commonwealth Office (FCO) provides British citizens with information and guidance based on information obtained from experiences and reviews to make better planning and travel decisions before traveling abroad. she does.
It is estimated that during the year 2018, 844,000 British citizens traveled to Pakistan. There are 22 weekly flights from Pakistan to London.
On the other hand, a spokesman for Pakistan's Foreign Office has welcomed the British Government's decision to amend the Travel Advisory for its citizens as a result of improving law and order situation in Pakistan.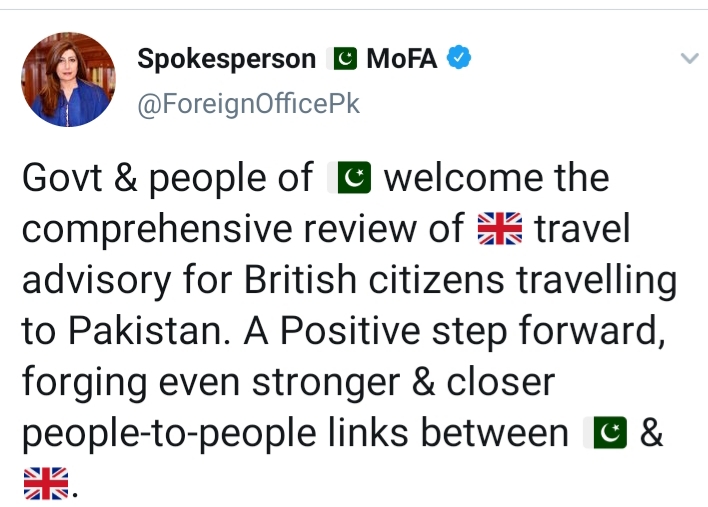 In a statement released on Twitter, the spokesman said that the people of Pakistan and Pakistan welcome the British government's comprehensive review of travel guides for its citizens traveling to Pakistan. According to him, the British government's move is a positive step in building closer ties between the citizens of Pakistan and the UK.
It should be remembered that in the year 2020, Pakistan has been declared as the first destination for tourists worldwide. The Government of Pakistan is also making global efforts to promote tourism.
Pakistan has not only launched 'Visa on Arrival' for tourists from most countries but has also invited global leaders to visit Pakistan's tourist destinations for tourism promotion.
Pakistan has also urged the United States to change the travel guidelines. According to Foreign Minister Shah Mehmood Qureshi, Prime Minister Imran Khan has also convinced President Donald Trump in this regard.
At the request of the Prime Minister, a high level Saudi delegation will visit Pakistan soon to promote tourism in Pakistan and invest in this sector.