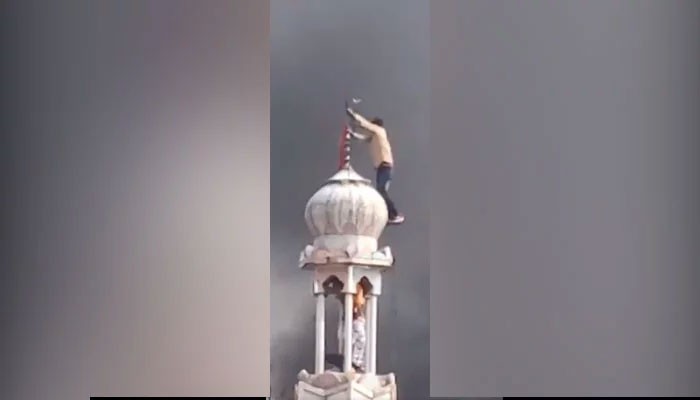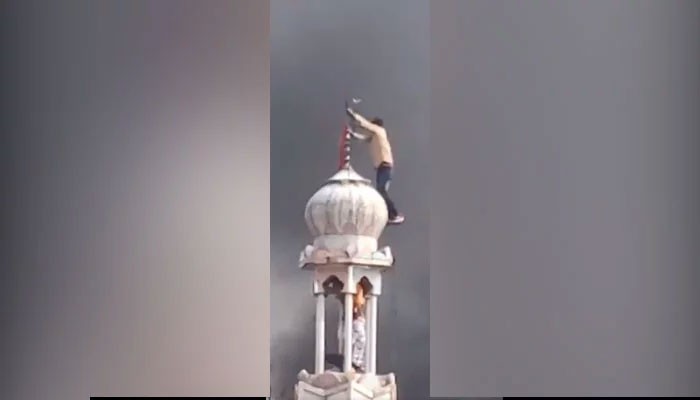 In New Delhi, pro-Hindu extremists attacked the mosque and thwarted its sanctity.
A video on social networks shows a man climbing a minaret of a mosque.
It should be recalled that riots broke out yesterday in New Delhi when Hindu extremists were attacked by protesters against the controversial citizenship law in the northeast.
The attacks killed seven people, including a police officer, and injured more than 50.
Local government has imposed section 144 on the region.
Under the cover of these riots, the Hindu Bulai were uncontrollable and attacked the Ashok Nagar mosque in Delhi.
In viral videos on social networks, we can see that a group of black Hindus went up to the minaret of the mosque of Ashok Nagar.
Many climbed the minaret and attempted to free the Halal brand, while simultaneously removing the loudspeaker from the mosque and throwing it on the ground.
Meanwhile, the extremists hoisted the flag on the mosque, which is considered a religious symbol of the Indian and Indian people.
On the other hand, a large number of social media users condemned the attack on the mosque and called it a "Babri Masjid" tragedy.
President Arif Alawi strongly condemns
President Arif Alawi also condemned the attack on Hindu extremists at the Ashok Nagar mosque and said that this fear recalled the attack on the Babri mosque.
It should be noted that the Indian opposition made provocative statements from Kapil Mishra, the local police and the leader of the Bharatiya Janata party responsible for the riots in Delhi.
General Chat Room

image source
Facebook Comments