Somewhere on Australia's Kangaroo Island, a shiny new black parrot with identity number 0601 is composing a new chapter in an extraordinary survival story.
In early January this year, panicked parents fled their nests in the gum tree on the edge of the park Carol and John Stanton to avoid smoke and fire from wildfires sweep a third island.
The Stanton family lost their home to a fire, but the tree – and its nest – survived.
In the following weeks, when the couple began cleaning, they were amazed to find that the couple not only returned but were also accompanied by a loud grip from the nest.
"It's really special and it makes you grateful they are safe. That gave us a lift, "Carol said.
Glossi, as they call it, are lifelong mates and Stantons have watched the two birds visit an artificial nest made of a customized storm drain at the edge of their garden, a tourist attraction on an island outside the state of South Australia, for years.
"There's a path under a tree," Carol said. "They are very gentle birds – you are indeed attached to them. They will come out and see us – they will become accustomed to our presence there. For the same couple using the same nest year after year, it is a real pleasure for us. "
The glossary of the island is a unique subtype that conservation has worked for 25 years to save. They only feed on one tree cone seeds – drooping sheoaks – and only lay eggs one year. For Stanton, it was incredible that their glossy not only produced eggs but also developed to 0601.
Even when the fire blazes, "the couple will be there through a dating ritual," said Mike Barth, who manages the island's conservation program to save birds from extinction.
As fire authorities continued to issue new maps of the burned area on the island, Barth said he "would be horrified because we had just lost another nesting site".
But on February 11, when Barth observed damage and inspected the remaining nests, he saw a woman in the Stanton family garden sitting on an egg. On April 29, when the parents were looking for food for their newest family member, he climbed into the nest and attached a stainless steel tape with number 0601 on it to the feet of the nestling bird.
Apart from this success story, Barth said: "We don't really know at this stage how many birds are lost. We think we lost some directly in the fire. "Barth will help take a bird census later this year.
In the mid-90s, there were only 158 glossies left. Land clearing for development and agriculture has increased the number of native possums who like to attack parrot nests and steal eggs.
But conservation efforts to keep the gap from the possum robber, put up artificial nests and plant more sheoaks seeing the number reach 400 before the fire broke out.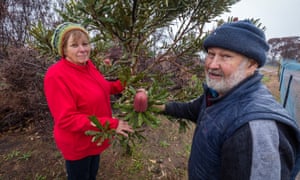 "It's shocking, the extent of the area is burning," Barth said. "Just drive on and on west and see all these places and it's not just shiny black habitat, but everyone I know who has lost their homes. It's heartbreaking to see it.
"I was astonished how many large old trees were lost. The fire had entered the base and had just dropped them. "
Number 0601 is hopefully out there with 33 new mothers counted since the fire, avoiding birds of prey and finding strange, unburned sheoak trees here and there.
"We lost a lot of feed trees in the west," Barth said. "Every green tree is important, that's what I'm saying."
Although sheoaks can overcome fire and some are uprooted, it takes five to 15 years before there are seeds that grow again for birds to eat.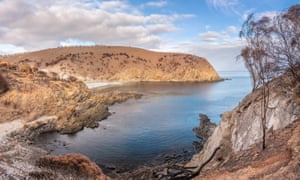 But Barth hopes. "They are intelligent birds and in my view, they have a little mind map to feed the tree and once they find it, they will continue to return there year after year.
"We have planting [of sheoaks] near Stokes Bay who survived the fire. The trees are only four or five years old so in two years they will have seeds. "
In the back of everyone's mind on the island, Barth said, is the threat of more fires in the coming years. "Next year it could be the eastern end of the island – we don't know," he said.
"Humans have given balance to many species and it is our responsibility to do something to help them. We create conditions. I am glad to be able to help out there. "
Find out more age of extinction coverage here, and follow biodiversity journalists Phoebe Weston and Patrick Greenfield on Twitter for all the latest news and features