Thanks to the help of our community, this week we have a list of applications that have just been released on the Google Play Store. We hope this small and varied list will help you optimize your smartphone better, entertain yourself, or better understand the stars in the sky!
Redshift Sky Pro
Of course you can also walk in the forest. But if you are fascinated by the stars and the universe, you should look at the planetarium application Redshift Sky Pro. Through the 'Today's night sky' and 'My Favorites' application areas, you can immediately see what is happening in the night sky. In addition, this application offers you the opportunity, for example, to admire a planet or moon as a 3D model or to catch a glimpse with the integrated sky calendar when you can experience a lunar or solar eclipse again.
Do you just want to see the stars of our planet and get more knowledge about galaxies? This application also has a lot to offer. For example, you can visit other planets and admire the sky from there. You can also use the application to access the latest data from satellites or read 25 chapters on astronomy. If you want to try this application, you should expect a price of around ten dollars.
You can download Redshift Sky Pro from the Google Play Store.
You can download Redshift Sky Pro from the Apple App Store.
Volume style: adjust your volume controls
This application allows you to adjust the volume panel of your mobile. Often limited, volume panels are used every day, most of the time by mechanical means. Here you can change colors, apply different themes such as iOS nuance or change the panel position on your screen, etc. Volume Styles offers a very rich list of items including styles, sliders, shortcuts and even display modes.
You can download Volume Styles from the Google Play Store.
Loop Maker Pro: Music Maker
Music applications for smartphones are numerous and compete in all fields. Loop Maker Pro joins the battle by offering an application to make your own music directly on your smartphone. Start a music maker and learn how to make a thrilling rhythm. Loop Maker Pro is very functional and fun because the tutorial guides you through all the steps to make music from A to Z. Always want to be a DJ and make music for fun? Now you can! It's easy to use and perfect for changing scenes without having to think you are David Guetta in detention.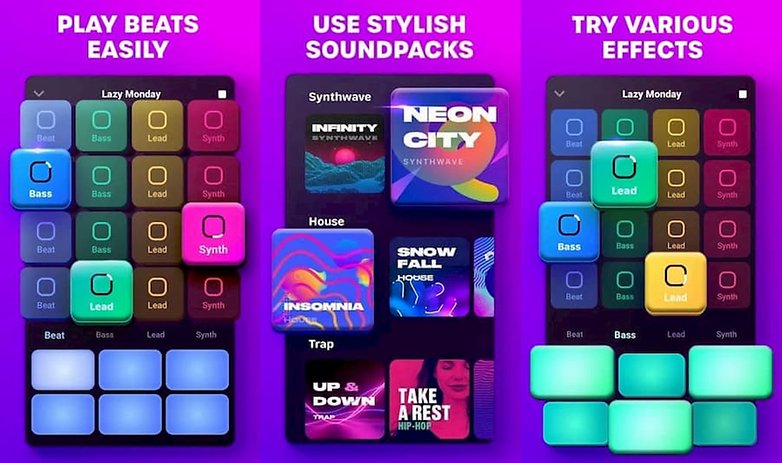 You can download Loop Maker Pro from the Google Play Store.
ISOLAND: Amusement park
This week again the Play Store offers an exciting new puzzle game. But unlike other proposals on the market, this one benefits from all the talents and experiences of the famous developer CottonGame. Cotton, in fact, presented the prequel for the game. In accordance with other brand applications, this game offers a single universe that is loud and attractive. The detour through this dark city staged in a dark atmosphere is really worth a detour.
You can download ISOLAND: Theme Park from the Google Play Store.
You can download ISOLAND: Theme Park from the Apple App Store.
Sky: Children of the Light
I will not lie to you. Although I like applications of all types, I am not very familiar with this type of game. My feeling is that Sky: Children of Light do a good job of taking you far, far away! The graphic design is frankly very successful and allows you to dive into the enchanting world of Sky, a beautiful animated kingdom waiting to be explored. The music experience is truly at the meeting and the music also contributes to this guaranteed change of scenery. Explore the seven dream kingdoms to discover their own mysteries or in a team. This application also offers the possibility to interact with other users. Personally, I like the experience during my tests. With this type of game for smartphones, an increasing trend is confirmed among many developers.