Meghan King Edmonds seems to knock it estranged husband, Jim Edmonds, once again on social media.
Former "A native housewife from Orange County"The star recently posted a TikTok video in which she sang a song that seemed to hate the former MLB player who revealed she tested positive coronavirus last week, even though he showed no symptoms.
"Got a message from my ex the other day, he said he missed me. I said, "Sorry I can't talk right now, I'm at the funeral." He said, "Oh, my God. Who died?" I said, "My feelings for you are gone. Bye, f —- r," Meghan synchronized with lips.
MEGHAN KING EDMONDS AND EX JIM EDMONDS 'BATTLE CUSTODY CONTINUES
After the comment section exploded, he gave the video title: "I kid I kiddd [sic] but the end is my favorite. "
When asked about the post, representative Jim Steve Honig told Fox News, "Over the past few weeks we have seen celebrities use social media to unite people and support one another. Apparently, Meghan had taken a different path and instead decided to spit out hatred and anger. He thought it was funny; I think it's sad and immature. "
Edmonds, 49, took to Instagram last week to share news about his health when he recovered at St. Louis, Mo.
CELEBRITIES THAT WERE POSITIVE TESTED FOR CORONAVIRUS
"I appreciate all those who have sent good wishes and pray for the best for me," said Edmonds. "I did a positive test for pneumonia and I did get a positive test again for the virus. I was completely symptom free and did very well, so I had to have it for a while before I was tested."
Edmonds then urged his fans to take the plague seriously.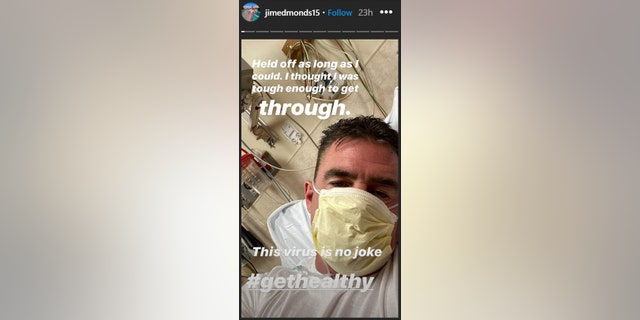 "Don't underestimate this. If you feel bad, go to the doctor or go to the emergency room if you can't breathe," Edmonds added. "That's what happened to me."
CLICK HERE TO GET THE FOX THE NEWS APP
Meghan, 35, and Jim split up in October after he accused her of inappropriate behavior with their children's caregiver even though she and the caregiver denied the accusation.
They shared three children: Aspen's daughter, 3, and twins Hayes and Hart, 21 months.