On March 2 the announcement came that, for the second time in history, Tokyo Fashion Week was canceled. After national and city authorities called on those in Tokyo to refrain from holding large-scale events, the decision of the organizers of Tokyo Fashion Week seemed inevitable. In the end, all the Autumn / Winter 2020 fashion weeks in Asia were postponed or canceled altogether.
From the weeks before the final decision was announced, the designers who were busy preparing their collections were in a state of anxiety, never knowing what news would be brought the next day. Some brands that plan to participate decide to cross out their plans, and are forced to pay cancellation fees. The worst case scenario of every designer – where their new collection can be displayed in an unsatisfactory way – seems to have very real possibilities for each potential participant. So, a few weeks later, how do the designers feel about the current situation?
"I really feel the need for sustainability, not only from a sales perspective, but also at a more psychological level," said Yoshiki Hanzawa. After the cancellation of the runway event, its brand PER MINUTE released First video. PERMINUTE has also announced that starting this season, it will introduce a booking system that is managed internally. "With the development of global capitalism, the fashion industry has grown enormously, and I don't feel the need to keep up with the speed that has been determined. I am starting to think that I want to attach more importance not only to having orders, but to interpersonal connections."
Designer Hideaki Shikama, founder of the brand Children's Disputes whose collections are based around deadstock fabrics, say: "If we stop then everyone stops." From the start, Shikama had directed its brand to avoid mass production, being assertive about not taking orders that exceeded their production capacity. "Luckily, thanks to the fact we make our goods in the studio, our team that supports our one-off production method, and our factory located near our studio, we haven't been too affected. "
At present, this approach appears as a kind of flare for others. Japan came to a place where we need to rethink the current state of Japanese fashion, where the brand has several bases spread across the country, each managing all stages of production. 'Real local production for local consumption' approach. Furthermore, this crisis seems a valuable opportunity to rethink the benefits and disadvantages of a mass production approach that produces excessive waste.
In this situation where the future is very difficult to predict, cancellation of orders and buyer doubt is very possible. In some cases, due to restrictions imposed abroad, factories were temporarily closed, and delayed product and fabric shipments proved a severe structural problem for the fashion industry. From here, the effects of this situation on all areas of the production cycle, from design and presentation and manufacturing to delivery to the store and when buyers try the product will become increasingly clear. But there are some brands that consider it important not to stop producing.
Reiji Harimoto, who founded his own brand APOCRYPHA after working at Yohji Yamamoto as a male pattern maker said, "Exactly because we are a brand new brand, it's time to bring our goods out there, not to hold back." APOCRYPHA took the decision to reorganize the show. it has been planned, rethinking not only the place and time but the contents of the show itself, finally installing the installation directly without the audience. "The mode of presentation is different, but the desire to make and put things out there might make people feel a little lighter and more positive about things that don't change."
Malamute, a brand whose collection revolves around a complex range of knitwear, and whose production tools have grown due to close collaboration with craftsmen and manufacturers based in Japan, reveals its new collection through Instagram stories. "We think about how we can traverse the movements and feelings of closeness that you get with runway performances, in a way where the audience doesn't need to be in the same location," designer Mari Odaka said.
To reiterate, the cancellation of Tokyo Fashion Week this season is inevitable. In practice, it is impossible to implement measures that will guarantee the safety of all parties involved in the event.
From an international perspective, the level of awareness of Japanese cleanliness in public spaces is on the high side. I remember a time when a friend from abroad visited and was impressed by how the server in the restaurant would sterilize the menu cover every time the customer finished eating. At this time of year, it is very common to see people wearing masks to ward off the spread of influenza. In fact, these actions are so intertwined in the fabric of our daily lives that they register as normal. Seeing someone wearing a mask doesn't make us question whether they have a serious illness. Needless to say, preventing the spread of undetected viruses is considered very important. It is understood that, in consultation with the advice given by the government and experts, we must continue to think about the safety of ourselves and those around you, and to act accordingly. All brands that have held exhibitions since the outbreak of the virus have taken steps such as installing hand sanitizers in the venue, encouraging the use of masks, and imposing limits on the number of people received at one time.
This train of thought took me to another time when Tokyo Fashion Week was abandoned, after the March 2011 earthquake and Tohoku tsunami. The destruction caused by the disaster broke all kinds of records. The country's understanding of the scale of the devastation, the number of people lost their lives, the depth of the tsunami claw marks, is growing every day. Throughout Japan, people experience a sense of crisis. Shops closed, people were asked to save electricity and take special safety precautions. Every environment in the entire country has fallen into chaos, and everyone feels it.
When foreign media broadcast photos of people lined up to board the train that finally started walking again, the outside world caught a glimpse of how Japan faced, earnestly and quietly, whatever difficulties they faced. For all these reasons, the Tōhoku disaster remains a memory and life experience that cannot be forgotten by people, regardless of their individual circumstances.
"I was a middle school student when 3/11 happened," said Hanzawa, who is from Fukushima. "I feel that all the dramatic changes in society happened when I started thinking about my future that really shaped my attitude towards life. The current situation may be different, but at least with regard to a sense of instability, it's similar. I think it will provide makers with new attitudes and ways of doing things as opportunities arise. "
Back in 2011, fashion designers had no choice but to make difficult decisions: cancellations, delays, changing the way their work was presented. It's not unusual to hear people lamenting the powerlessness of the fashion industry. However, little by little, the mindset began to change. Culture doesn't have to stop evolving. Thus the designers began to look for new methods to contribute to the recovery effort. Brand mint design and ANREALAGE, under the joint title 'A New Hope', decided to hold a runway show that they originally planned to cancel, thus giving a glimmer of hope for fashion lovers. They also intend to help with the reconstruction of factories that were swept away by the tsunami in the Tohoku region that was badly affected. Many people feel from this effort the positive light of hope.
Of course, a pandemic is very different from the effects of natural disasters, and maximum self-protection is the key. However, isn't it important to have techniques to minimize stress and anxiety? In Tokyo, many of those who do their best to deal with situations that change from second to second find comfort in living their lives in ways that feel unique to them. There is nothing to boast about that out loud, but in this case we can see the character of the Japanese people and the teachings of 2011.
"The act of making a decision that can hurt someone is very contrary to our brand concept," said Yusho Kobayashi, which plans to install its second installation at Tokyo Fashion Week since returning to Japan after graduating from Central St. Martins. "We decided to investigate various options for online shows, thinking that this is a good way to reboot the attitudes and expectations of people in this changing time."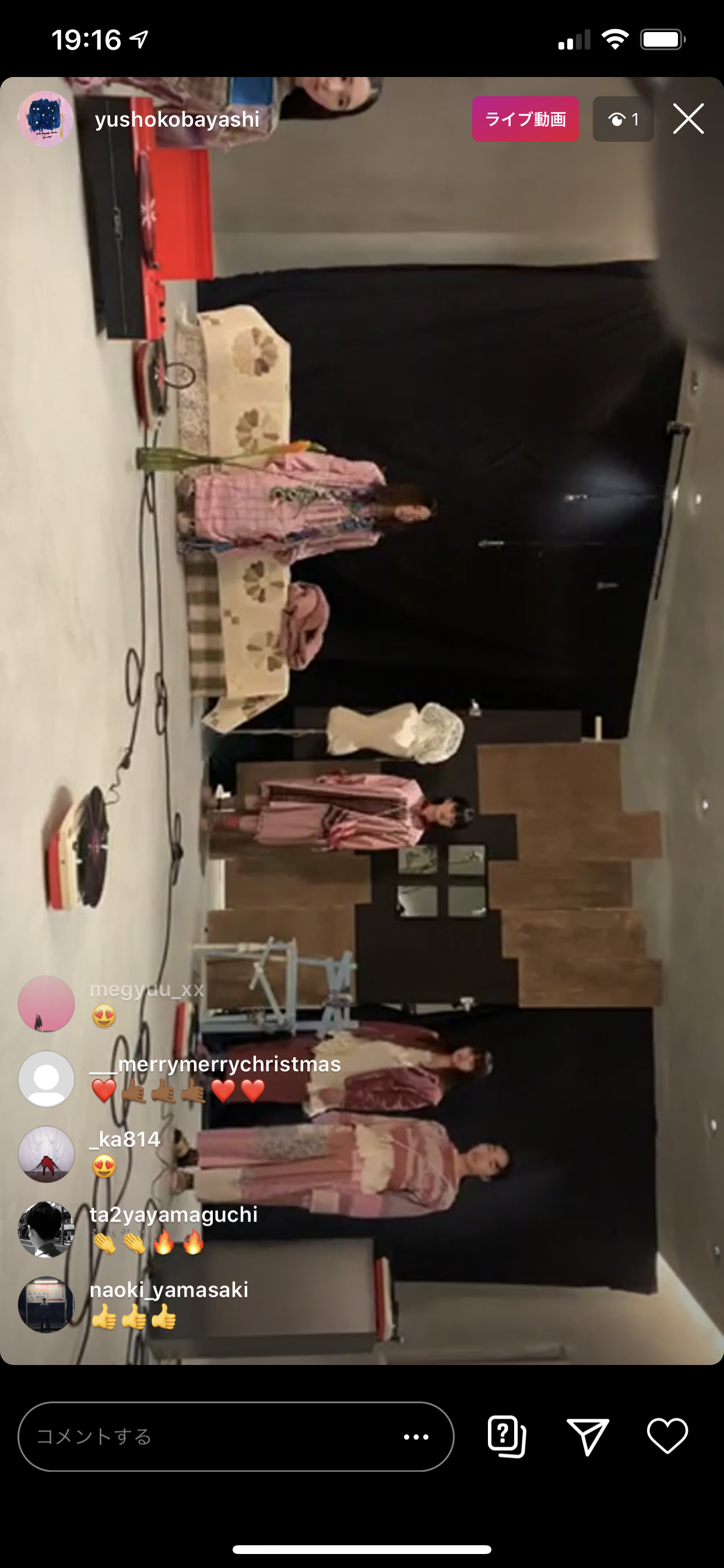 Opening five new Instagram accounts, the brand has broadcast recorded events from six different angles, including those taken on the iPhone from the PA room and backstage. "It's being seen on a small screen, and it's not a high-quality recording or anything. I want to have a DIY feel for it." Regarding the future of the brand, Kobayashi continued, "Fashion is art and culture, but it is also a part of our daily lives. -day. Our top priority is finding the right balance between dreams and reality. Fashion is born because it has a certain amount of mental space – this is a similar incentive to buy flowers on the way home. That will also apply to what is sought from fashion in the future. "
How will fashion change once we move beyond this period of uncertainty? Keisuke Yoshida from KEISUKEYOSHIDA said, "I always think that fashion has the power to change people. Fashion designers create their vision of fresh ideas, which come to them through involvement in society. They always try to uncover the way people and their clothes in the near future. Given the state of society now, spring / summer 2021 will definitely be interesting. "
There is no doubt that contemporary designers will take this experience and connect it to the future. And so we will watch carefully and see what these cultural moments are and the energy of those who are determined to overcome them.
---
Credit
Polly Barton's translation
This article was originally published on i-D Japan and has been edited and summarized for clarity.