Much has been written over the last few seasons about the changing of clothes from the dirty streetwear silhouette to something a little more formal, a little more grand – including by us. In many ways, the rise of the bourgeois phoenix from the ashes of casual haute clothes should not be surprising. Fashion has historically been an industry based on offering the highest quality products and bespoke for special people who can afford the luxury.
However, more than half a century ago, large-scale logistical, social and economic changes have changed the way we deal with fashion, effectively freeing it from its previous status as the exclusive preservation of certain social groups or classes. That is not to say that it loses its exclusivity sheen, but rather that, since the advent of prêt-a-porters in the mid-60s, driven by designers like Yves Saint Laurent with its Rive Gauche store, and businesspeople like Didier Grumbach, access is available to anyone with the means to buy it, rather than people who have a personal relationship with a couture seller.
The commercial opening of this industry has brought aesthetic diversification over the years. As the brand's customer base develops, so does the need to produce work that feels relevant to those that are beyond their traditional reach. As a result, the horizon of what qualifies for luxury ready-to-wear clothing has never been wider, from provocative sexiness to simple intellectualism to everyday t-shirts and jeans. That does not mean getting to the big houses – because the field has expanded and a niche market has emerged, independent designers have led the task of interrogating the meaning of luxury, reusing it to reflect on experience and fulfill people's desires ignored by the mainstream of fashion.
As has been well documented, many houses then problematically lift the aesthetics from their original context, often socially marginal, in order to create and exploit temporary trends in the industry with bootlegging for example. That is why, with regard to this relentless mining of the 'untapped' reference, the return of the most arrogant houses to the meadows that many consider long abandoned. At times when it's stuffy, the code that the class adds may seem less relevant than before, the industry, at least at first glance, seems to have embraced them again.
This is a proven trend in both sexes: in men's clothing, for example, we see that Virgil Abloh effectively rejects streetwear, the temple of the saying where he once served as high priest, and pivots to make customized silhouettes in collections for Louis Vuitton. But it's in women's clothes where, at first glance, it looks like smooth bonne maman aesthetics are truly mastered. This shift is rooted in SS20, where a palette that looks stuck and pieces for summer collections are seen all over the board. However, for AW20, the timeless chic peak reached, with runways in Paris and Milan unexpectedly replicating the undeniable bourgeois ideas of dress.
In Prada, for example, many images from previous collections were calm, and known floral motifs, where they exist, were carefully arranged rather than allowed to grow freely – either in painstaking embroidered beads, or symmetrical prints. But it's less subtle, artisanal talent from details like that which suggests clothes that you might find in Grandma's wardrobe that are very nice than the dominant silhouette of that collection. A sharp padded gray wool suit and a checkered jacket on soft leather and fake fur – which is combed naturally – exudes a harsh atmosphere of Milan. Sometimes, it's like a caricature of the power of masculine attire. At the same time, it doesn't feel intentional nostalgia. Instead, it feels more like repurposing motifs and heirlooms. Things that might be read as chintzy, or fragrant bohemian frivolity – flowing lines of silk and beaded edges; gem chevron; the intricate macramé knot cap on the brown shaving coat – seamlessly becomes part of what feels like clothing for new aristocrats.
That is a similar story in Fendi, where the vision of top-tiered femininity is quietly empowered applies. Here, though, it's arguably a little more rounded, showing Fendi's woman in all the lights from the 'conference room to the bedroom'. We were offered a complete biography about a Roman Donna Borghese. Soft sensual intelligence from the time of its debut – see: dusty rose layered velvet gown with frilled satin collar; a chunky knit salmon sweater paired with an almost intimidated olive skin skirt. Elegant day dresses with stocky set-to sleeves show quiet confidence, while pieces in paisleys spot leopards suggest latent sultriness. It became something a little closer to BDSM domme at night, with a black lace spray, and a biker suit with a boned corset and a stiff-paneled coat in the black calf's skin flawlessly leaving a little imagination.
Fendi AW20
However, in both cases, although material choices, silhouettes, and references may often recall the traditional aesthetic ideals of women with high social status, bourgeois retrospection shown is more nuanced than simple nostalgic acts. For starters, women who wear clothes provide a vision that is far more representative – though perhaps no less ideal – for who they are. In Prada, muse's house Anok Yai close the show. And at Fendi, Ugbad Abdi, Paloma Elsesser and Jill Kortleve all goes. Of course it's a small step, but that's worth mentioning, especially in Milan. By placing girls in clothes that are bound by social contexts where faces like them are not represented, the second collection of houses feels like an attempt to rediscover the meaning of clothes. It was not a girl who tried to fall into pieces in her mother's wardrobe in the hope that one day she would be, and even more she tried to see how they could make sense in the world where she lived today.
This spirit is communicated the shortest at Maison Margiela, where Galliano pays homage to the tradition of the house to remake iconic vintage pieces under the 'REPLICA' moniker. Reinvented as 'RECLICA', a neologism that marries a house that was erected special expertise and recycled 'art', items hybridized from magpie clothing picked from charity shops, remade as expected to take soft staples. Lapel coat and button buttons draped over the shoulders of a light chiffon dress. There is a thick coat too, with beautiful patchwork to reach the outer layer of half wool, half silk. Nodding the tweed skirt and bow pus, too, keeps things tied to a certain old world, but the ragpicker-meet-couturier approach clearly talks about the bricolage strategy so that many of us today are taking to dressing, making our own portable postmodern collage with clothes whose code was once considered inviolable.
The seemingly irresistible rules governing how clothes are made and who they are made have long been bound by ideas of social status. And wearing certain clothes has long offered a way to visually assimilate into the class categories they represent. That does not mean that wearing a pleated leather skirt will turn you into a diplomat's daughter, but it is tempting to think that what we are witnessing now in fashion talks about the longing for inherited security that is marked by the bourgeoisie. However, that seems a bit too simple. This is not about going back to the time where the fashions of confidence and serenity were the privileges of a few privileged people. Instead, what we see now feels more like an act of subtle emancipation – an assessment of how clothes become entangled in social expectations, and efforts to release them from the history that has long been a burden on them.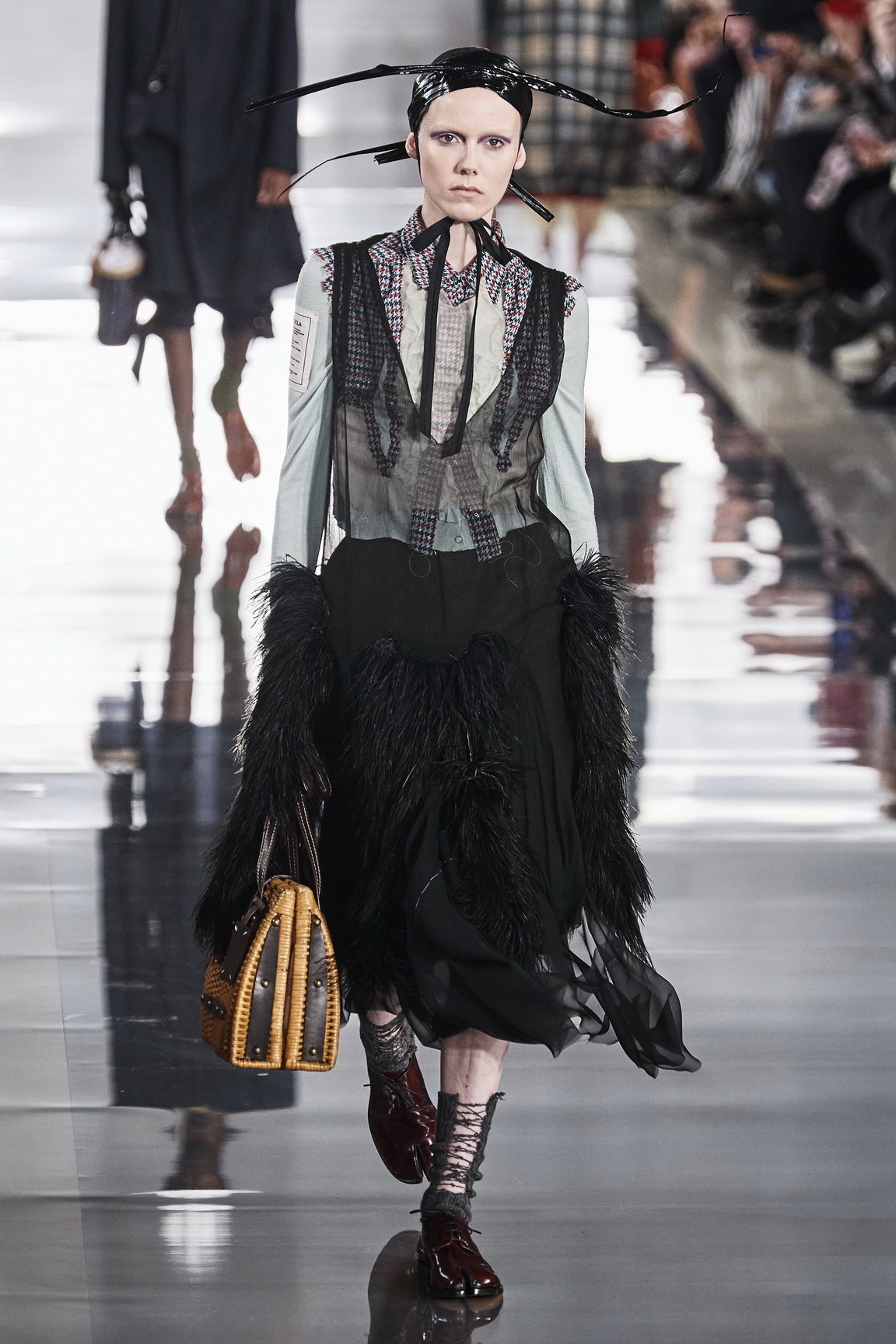 Maison Margiela AW20
Credit
---
Mitchell Sams Photography