KARACHI: Aiming to make a mark on the boxing ring, 47 boxers from different regions of Karachi – aged 14 to 20 – participated in the two-day Karachi women's boxing championship.
The event is organized by the Sindh Boxing Association in collaboration with the South Karachi District Municipal Corporation. Boxers from the South, West and Central districts of Karachi participated in the event.
On the opening day of the championship, 15 fights were held during which enthusiastic female boxers demonstrated their strength, skill and passion for achieving something.
"This championship is the first step for them to realize their dream of doing something for the country," said Asif Azeem, the championship organizer.
And, what are the dreams for these girls?
"To win medals for Pakistan in all international events," replied the girls.
"We can be like Laila Ali, Marry Kom or other top boxers. If they can do it, why can't we? "Said a boxer who participated in the tournament.
Boxing was once one of the fastest growing sports in Pakistan, but in recent years, it has been on the decline due to the lack of interest and politics that is common in the Boxing Federation.
Pakistan introduced women's boxing in 2015 and Razia Banu emerged as Pakistan's first female boxing star.
"It's nice to see girls interested in boxing, it's not only a sport but it can also help them in self-defense. They have role models like Mehreen and Razia who have made the country proud, "said Asghar Baloch, vice president of the Pakistan Boxing Federation and well-known boxing organizer.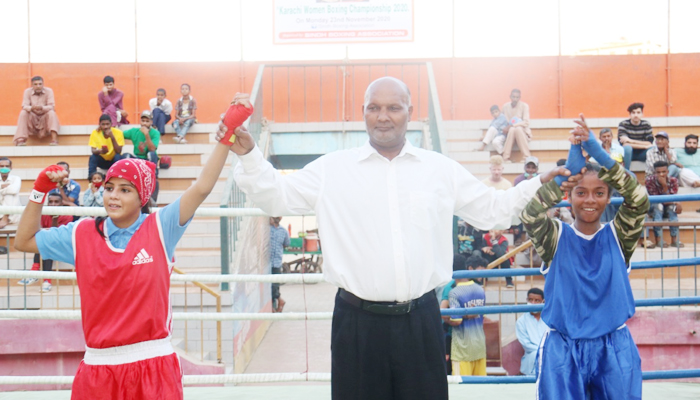 "We currently have about 100 girls in our pool but we are making all efforts to increase this number because our target is to have at least 1,000 girls playing this sport. "In Karachi, Liyari has a good number of boxers and there are girls from Balochistan and other parts of the country who are progressing too," he said.
Asghar added that championships at the grassroots level would help not only in raising the standard of play but also in promoting boxing among the masses.