Germany on Wednesday took steps to hold companies accountable for labor or environmental abuses in their global supply chains. The new law (Lieferkettengesetz in German) allows for hefty fines ranging from several hundred thousand euros if their overseas contractors are found to be violating human rights or environmental regulations. Fines increase to two percent of the company's annual revenue if they exceed 400 million euros ($ 484 million).
The company is responsible for every step: from raw materials to finished products.
"This law protects workers from exploitation throughout the vast supply chain and protects human rights around the world," said Finance Minister Olaf Scholz on Wednesday, adding "In the future, it will be clear that 'Made in Germany' also means respect for human rights. "
The SPD-run labor and development ministry initially wanted the law to also target small companies, but backed off in the face of strong opposition from the CDU-led economy ministry and industry voices.
Responsibility for all products
A typical chocolate bar costs just € 0.80 ($ 0.91) in a German supermarket. However, many of these sweets are produced using child labor. Two decades ago, the University of Chicago launched a research project that looked at how many child laborers were employed in the world West African cocoa plantationin Ivory Coast and Ghana. According to the latest reports of scholars, 2.26 million children today are hard at work in the industry – a tragic new record.
"The problem is that industrialized countries are externalizing, meaning that we are outsourcing production to developing countries and thereby undermining the production standards we impose in our rich societies," said German Minister for Economic Cooperation and Development, Gerd Müller. Germany's widely accepted social and environmental standards, he said, are being violated in this way. "We accept and strengthen the exploitation of humans and other nature in developing countries," he said.
Ineffective voluntary commitment
Unfortunately, this grim division of labor has been going on for decades. There have been many political attempts to change this reality. Several companies based in developed countries, too, have made efforts to ensure labor, environmental and social standards are met during the production process abroad.
For a fair supply chain: German Development Minister Gerd Müller (CSU, left) and Federal Labor Minister Hubertus Heil (SPD)
In 2018, the German governing coalition – made up of the Christian Democrats (CDU), Christian Social Unions (CSU) and Social Democrats (SPD) – agreed that legislation for this purpose would be passed unless the company's voluntary commitments proved effective.
Now, companies can be excluded from the public procurement process in the event of a violation, and experts have pointed out the broader implications, at a time when forced labor by Uighurs in China is a hot topic of debate.
Few businesses support the law
More than 60 companies have expressed support for the proposed law, including coffee roaster Tchibo, food producer Rewe and Nestlé, and chocolate producer Alfred Ritter. The pro-business association, meanwhile, rejected the proposal. They said the company was already under significant pressure due to the coronavirus pandemic. The foreign trade association BGA, for example, criticized that "the adoption of the due diligence law will bring us to the tipping point and further delay economic recovery."
"It is assumed that companies have more power than Chancellor Merkel's government when it comes to promoting human rights," said Steffen Kampeter, who heads the German employers' association. In his view, the bill expects too many companies. He, along with many other business representatives, took issue with the fact that companies should be held accountable if human rights standards are violated along the supply chain.
Labor Minister Hubertus Heil, however, disagrees. He argued that German companies would only be held responsible for foreseeable and thus preventable violations. "If you are making a profit globally, you also have to take responsibility for global human rights," he said on Wednesday.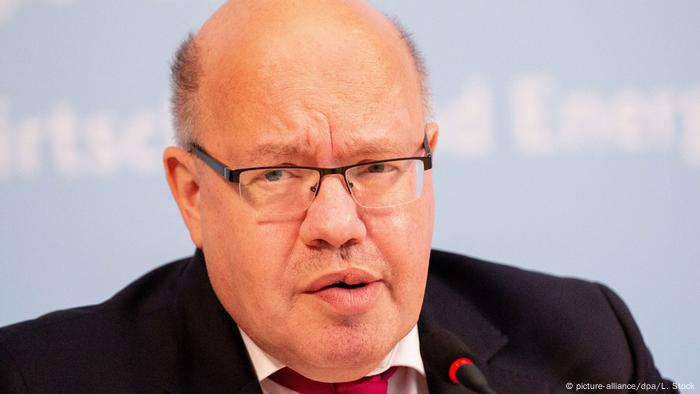 A skeptic of the proposed supply chain law: German Minister for Economic Affairs, Peter Altmaier
Should the EU act?
German environmental and human rights groups, which have long campaigned for the law, accused Merkel's government of "streamlining" the original proposal.
Industry groups have called for a European approach.
Armin Paasch of the Misereor Catholic relief agency says this is actually the problem. "The move to shift this debate to the EU level has aimed to delay the legislation for years," Paasch said.
A hard-fought compromise between the conservatives and social democrats of the ruling coalition in Germany, the bill still has to be approved by parliament later this year.