Central Pennsylvania Food Bank and its partners in the Susquehanna Valley are working overtime in 2020 to meet the growing demand for food amid the pandemic and this year is following the same pattern.
"And 2021 will be very similar to 2020," said food bank executive director Joe Arthur, Wednesday.
The need for food in the midst of the peak of the pandemic continues to increase, he said. By the end of 2020, the food bank will provide 50 million meals to the 27 districts and 1,000 local agents it serves.
Place demand at the food bank's two health food centers – one in Williamsport and one in Harrisburg – remains high.
One year ago
March 2020 started off quietly.
On the week of March 9, 2020, a week before the pandemic was declared by the World Health Organization, Arthur clearly recalled, "We've been doing things like washing our hands more often, but that's about it."
Little is known about the virus. The organization's two main fundraisers – called Soup-and-Bowl events – have been held.
"It looks like everything is fine," he said. "Life seems normal."
A week later, he said, a pandemic was declared, "and we were like … 'uh-oh.' The closings started happening right away. And we knew we were on a big boom. We had a helpline for people and the week was going crazy. Every day. We had extra protection, but the phones really were ringing. "
Arthur knew things had to be done in a different and safer way. Box packing has become a big thing.
"We always pack boxes, but we know that we won't be able to have kitchens to open their doors and let people in," he said, "so we started a crisis box program in the first few days of the pandemic."
At the start of the pandemic, most of the food bank supply of shelf-stable, perishable products was packed into a 30-pound crisis response box, which was double the volume of a normal box. According to a news release from the organization, volunteers produced 4,500-5,000 boxes daily in the early days of the pandemic, which made it easier for food kitchens to distribute with limited or no person-to-person contact whether on drive-through or gift-taking.
Arthur finds the Central Bank's warehouse volunteer area isn't large enough to get the job done and keeps everyone at a socially safe distance.
"We were immediately terrified of COVID," he said. "It turned out that the person was not positive, but on those days it took a long time to get results. The twenty-four people we really needed had to stay at home for more than a week until the test came back negative."
The solution to finding more space is not uncommon: They started talking to the people who owned the Agricultural Performance Complex in Harrisburg. "We thought they weren't going to be doing much in that space for quite a while," said Arthur.
Within two days of discussion, they made arrangements to get compensation from FEMA because the rent at the Expo Hall would be expensive, said Arthur. They moved their packing operation to Expo Hall at the end of March.
"We are setting up a packing line and complying with all COVID-19 protocols there," he said.
Since early April, every weekday and Saturday, more than 2,000 boxes are packed.
"It has sustained the crisis response for 12 months," said Arthur. "And that continues today."
Volunteers come daily, wear masks and gloves, and prepare with established protocols, but there is a change in the demographic mix of volunteers.
The older volunteers have stayed home, safely waiting for the COVID vaccine, said Arthur.
"During the pandemic, we have relied more on other groups … businesses, church groups, student groups over 18 … but we hope to welcome older volunteers back when they get the vaccine and feel comfortable here."
Delivery
Meanwhile, there hasn't been any cutback of service at Central Pennsylvania Food Bank, where truck drivers have to work overtime.
"We had to hire additional drivers from day one," said Arthur. But that's not enough in the first three months of the pandemic.
The Food Bank has received offers from several trucking companies to assist with deliveries.
The biggest story is FedEx in Harrisburg, said Arthur.
"During the three months they delivered for us more than 100 tractor-trailer loads of food, at the height of the crisis," said Arthur. "When we really needed them they made deliveries from the packing center at the Expo, to where we needed them. Amazing. Great show of company support.
"At the point where we've put everything back together," he said, "and handled everything ourselves, they got back to their business, which was also very busy."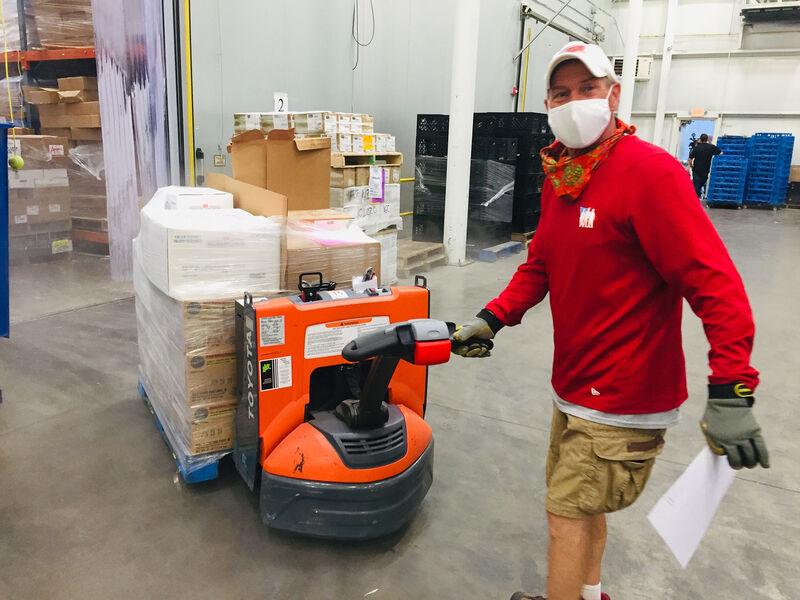 At Williamsport Warehouse 10 in Central Pennsylvania Food Bank, Ron Laielli, from Loyalsock, CDL Driver at the Williamsport Hub Locations, said that "Before the pandemic, we had five trucks going out regularly from Williamsport Hub to our partners in what we call the northern tier. our service area, deliver food to their distribution.
"We now have eight trucks coming out," said Laielli, "which cost 70,000 pounds per day with some days reaching 120,000 pounds. With the increasing demand, we are adding two more drivers to make sure no one goes hungry."
Key points
This pandemic is very severe for many people, said Arthur.
"But there are several things we have learned from this. The generosity of people, foundations and companies is unimaginable," he said. "So we have high confidence that we can continue this strong response … even if it is for another two years, or however long it may take."
He said their food suppliers, businesses, from farms to forks, their wholesale friends, Weis, Giant, Walmart, and even independents were very generous.
"Remember, at the beginning of the pandemic there is no guarantee that we will have enough to eat," he said. "It was a struggle, as were the people at the grocery store. We were experiencing shortages on a massive scale."
The Department of Agriculture found a way to enter food that no longer closed restaurants into the food bank stream.
"That shows what we can do," said Arthur. "We have learned to do some things better, which we will keep."
Food banks have started night shifts and are able to handle truck loads in the middle of the night while traders move their trucks.
Arthur called it "a big problem. We will continue with safer protocols, even when the COVID is gone. And, we want to build local, more sustainable sources. We build relationships with farmers, but we can do more."
Central Pennsylvania Food Bank serves more than 200,000 people each month through a network of 1,000 partner institutions and programs in 27 counties in central Pennsylvania.
Over the past 12 months, many of its local partners have maintained their food distribution by turning the distribution into drive-thru pick-ups, as well as other creative solutions to comply with COVID-19 safety precautions.
The demand continues
Arthur predicts the pandemic will lead to increased food insecurity over the next two years. In December, nine months after the pandemic, food banks distributed 55 percent more food flows than the previous December.
The recently passed American Rescue Plan will help, but the "economic damage" that is done will continue, Arthur said.
"But we think America's Rescue Plan will be a big support for the economic recovery," said Arthur.
In January 2021, there is an aid package that has, "some pretty positive impacts on the people we serve," said Arthur. "January to March to date has seen moderate demand. But we are still 25 percent above pre-pandemic demand. It was historically high, but not at last year's crazy levels. We think we will be at this level for a few years. . "
The food bank budget in 2020 swelled to $ 20 million (cash outlays) from $ 16 million a year earlier.
The costs of maintaining food bank operations rose more than 35 percent. It costs approximately $ 500,000 more per month in 2020 for warehousing, freezer and refrigeration, transportation and distribution costs and increased costs of getting fresh, healthy food to meet demand.
Funding is carried out through the Pennsylvania Department of Agriculture. Food banks do get money for operational costs through the Coronavirus Aid, Relief, and Economic Security Act, also known as the CARES Act.