Australian SailGP Team for Season Two
by Australian SailGP Team 7 Apr 17:07 PDT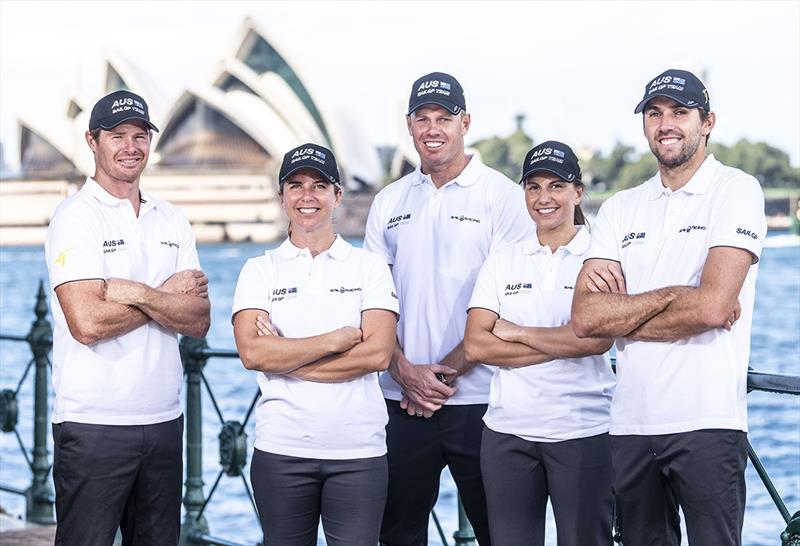 (Left to right) Tom Slingsby, Nina Curtis, Sam Newton, Lisa Darmanin Jason Waterhouse © Team Australia SailGP
Olympic Gold Medalist and Defending SailGP Champion Tom Slingsby reveals his team's line-up to defend the Australian Championship title in SailGP Season 2.
After securing history by gaining victory as SailGP's first Inaugural Champion, Slingsby, helm and CEO of the Australian team, has selected several members of his winning squad to join him in season 2, which kicks off in Bermuda April 24-25.
Apart from Slingsby, athletes returning from the winning squad include, Kyle Langford, 31, from Lake Macquarie, New South Wales (wing trimmer); Jason Waterhouse, 29, from Sydney (flight controller) Sam Newton, 35, from Sydney (grinder) and Kinley Fowler, 33, from Perth, Western Australia, (grinder / flight controller).
Nick Hutton will join the Australian team for Season 2 as a grinder, replacing Ky Hurst who has stepped out of the team to spend more time with his family in Australia. Hutton, originally from England, is the only international member of the majority of the Australian crew. He joins a team with a wealth of experience aboard a high-speed F50 catamaran, having previously sailed on the UK SailGP Team. He will join the crew having recently competed in the British Challenger for the 36th Copa America.
The squad also includes two successful candidates from the Australian SailGP Team's women's development program, Olympic Silver medalist Lisa Darmanin, 29, from Sydney and Nina Curtis, 32, from Sydney. The initiative launched last year aims to accelerate the inclusion of female athletes in the league.
The early phase of the program saw Darmanin and Curtis join the team for the season opening event in Bermuda in April. After pre-season training and development in Bermuda at least one athlete will be selected to join the team for the remainder of SailGP Season 2.
Commenting on the line-up for Season 2 Slingsby said: "Our squad features some of the most talented sailors in our country, including Olympians, Sydney To Hobart alumni and American Cup winners. We have proven how strong the team we have after our success in Season 1 and their ability and experience at the F50 will be very important when we face new tough competitions this season, such as Team New Zealand Peter Burling and AS Jimmy Spithill. Team. "We have used the time off between seasons to review our performance as a team and assess the improvements we can make. We are back hungrier than ever, with the aim of bringing home the Championship trophy for Australia. "
In addition to Darmanin and Curtis to the Slingsby team added, "Lisa and Nina will be the first female athletes to sail the Australian F50, which is an important step in our mission as a league to increase opportunities for women in the sport. They are arguably two of the best female seafarers in Australia, and I'm looking forward to seeing how they use their years of experience competing in the Olympics and other competitions to develop their skills beyond the F50. "
The dynamic league expanded Season 2 roster will consist of seven other Grand Prix Screen events, starting in Bermuda on April 24-25, and visiting Taranto, Italy (June 5-6), Plymouth, United Kingdom (July 17-18), Saint Louis. -Tropez, France (11-12 September), Cádiz, Spain (9-10 October), Christchurch, New Zealand (29-30 January 2022) and San Francisco, USA (26-27 March 2022).
The second season of SailGP will feature defending Australian champion Tom Slingsby, along with crews from Denmark, France, Great Britain, Japan, New Zealand, Spain and the United States. The season culminates with the Grand Final in San Francisco on March 26-27, 2022, when the champions will be determined in a one-million winner-take-all final.