Germany has doubled the pace of its Covid-19 vaccination after a slow start, as it battles a third wave of the virus that threatens a flood of medical facilities.
The country delivered about 720,000 doses on Thursday, the fourth consecutive daily record, thanks to a surge in vaccinations at doctors' offices. That pace will continue for much of April as a network of about 35,000 GPs receives 1 million more doses every two weeks – and even more after that.
"We are on a good track with vaccinations," Health Minister Jens Spahn said Friday at a press conference in Berlin.
Germany's impetus for inoculation comes as authorities try to check for an increase in infections that are increasing pressure on intensive care units. Chancellor Angela Merkel has called for stricter restrictions, but faces opposition from some of the 16 regional leaders, who disagree about the steps needed to prevent more infections and deaths.
The two sides appeared to have forgotten some of their differences on Friday, with Merkel's government announcing a deal with the state prime minister and members of the ruling coalition parliament to update Germany's infection protection laws.
The changes will establish national rules under which restrictions must be imposed locally if the seven-day incident rate rises above 100 per 100,000 people, Merkel's spokesman, Ulrike Demmer, told a news conference in Berlin. A meeting planned for Monday to discuss the next steps in the pandemic strategy has been canceled and the law will be signed by Merkel's cabinet on Tuesday, Demmer said.
"It makes sense that the rules are set for the whole country," Finance Minister Olaf Scholz told reporters. "Then you don't have to meet every two weeks for further talks, as defined in law thanks to joint efforts by the federal and regional governments."
With only about 15% of Germany's 83 million people having received Covid injections, tighter restrictions are needed to prevent overloading of hospitals, Merkel said.
Some regions failed to implement the restrictions agreed upon with their governments, prompting them to threaten to seize central control of pandemic policy.
Germany's Covid-19 incidence rate started rising again around mid-February, although its steady rise appeared to be checked during the Easter holidays.
Read more: Merkel Block Pushing for More Central Power Over Virus Strategy
Spahn, who also called for stricter lockdown restrictions, said on Friday that Germany would be able to comprehensively vaccinate the population by mid-summer. Allowing the country's health system to become overloaded so close to achieving that would make no sense, he said.
"Do we want to test the limits? Do we want to test what countries can handle, in emergency situations, in intensive care units? What kind of thought is that? "Said Spahn.
While some have called for restrictions to be eased as inoculation programs escalate and the weather warms up – and people grow tired of measures that have been in place for about half a year – Spahn is urging people to stick around longer. .
"It's about weeks, months with each other, to continue to avoid the health system overload that we've been able to avoid over the past 12 months," he said. And yes, I suffered just like everyone else. I want out too. I want a daily routine too. And I want to celebrate, and I want to eat out and I want to shop. "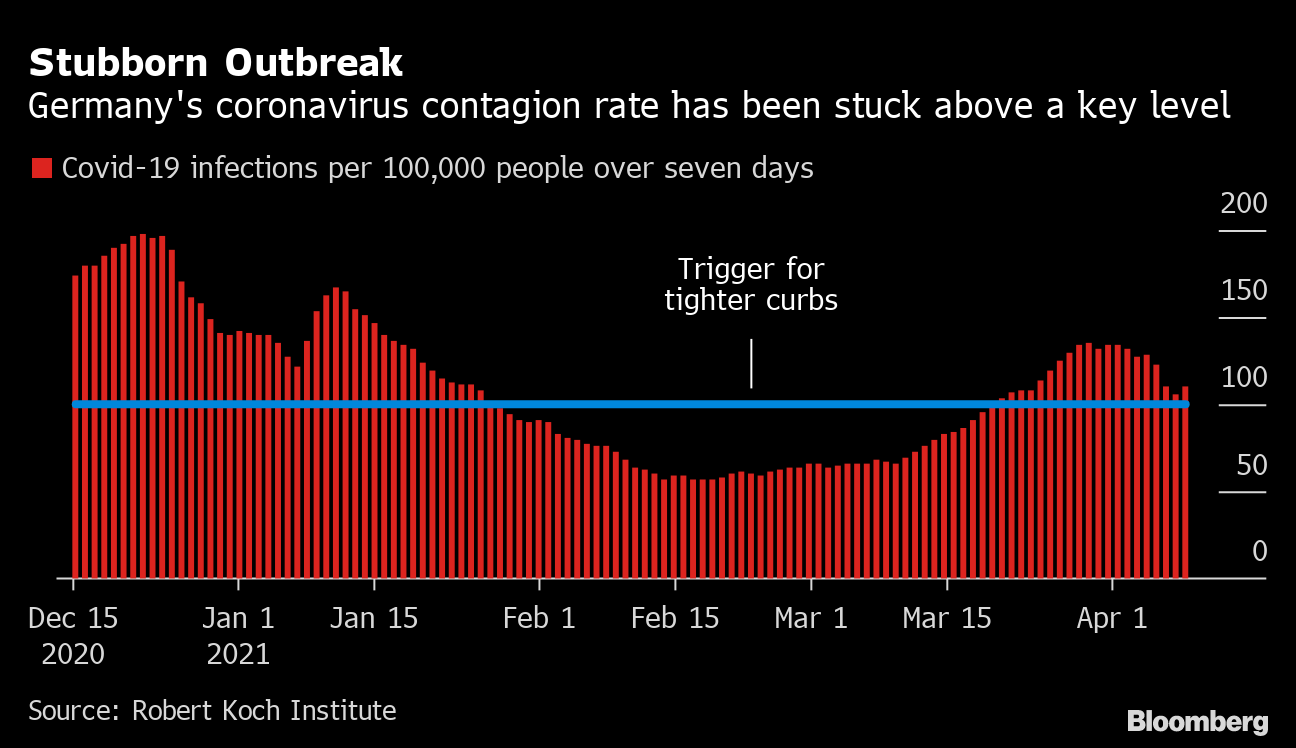 The head of the association representing the intensive care sector said Friday morning that the situation in German hospitals was "very dramatic" and ICU staff were "very worried."
Gernot Marx, president of the DIVI association, told ZDF that there will be more than 5,000 Covid-19 patients in intensive care by the end of this month.
"This is a very high number and what is really worrying is how few free beds are," said Marx. Many staff have indicated that they plan to leave the profession after the pandemic due to work pressure, he added.
"We really need a tight lock," said Marx. "It makes absolutely no sense to think about an opening, instead we should lower the infection rate."
– With the help of Chris Reiter, and Naomi Kresge
(Update with Scholz comments in the seventh paragraph)