For a new perspective on a story that matters to Australian business and politics, sign up for our weekly newsletter.
Australia's biggest energy retailer plans to clean up its climate action overnight – by decoupling all coal-fired plants.
Explore dynamic updates of the earth's main data points
AGL Energy Ltd. I s aims to separate into a retail and renewable energy business temporarily called 'New AGL' and a power generation unit, 'Primeco.' The new AGL will have zero Coverage 1 and 2 greenhouse gas emissions on its first day, the company said in an investor presentation.
Scope 1 emissions are usually of greatest utility, as they include emissions generated by fossil fuel power generation during generation. But New AGL will no longer operate the coal-fired power plants that fall under that classification and will instead draw about 75% of its energy from PrimeCo, which will need to account for the pollution.
To read more about emission standards, click here
The split plans are being finalized, and AGL will listen to feedback before determining whether a new generation unit will be registered, and how much ownership of the company New AGL will retain, said AGL Chief Executive Officer Brett Redman in an interview.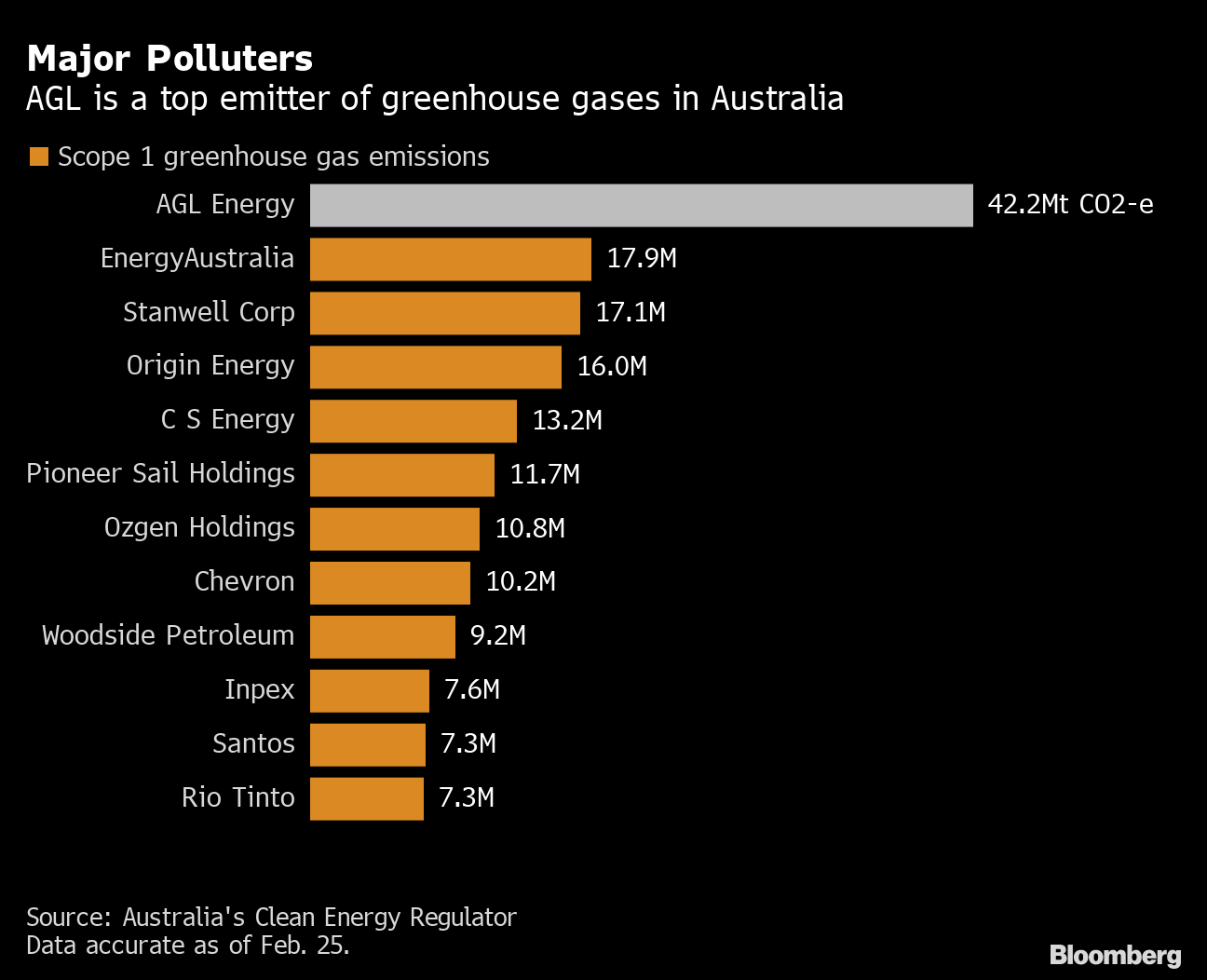 "AGL divides into two strong businesses that are good but they have different roles to play in the market," Redman said in an interview Tuesday. The coal plant is turning a profit and there is currently no intention of hastening the company's current target date of shutting down operations, which runs until 2048, he said.
PrimeCo. will sell about half of its output to New AGL, raising questions about how different the two new companies are and also about the terms of the power purchase agreement. Details of the planned agreement will be published later, although the pact will reflect current market prices, according to Redman.
Here's How To Say Green Good Deeds From Greenwashing: QuickTake
"AGL has chosen the easy way out, leaving behind tough decisions around coal closing to whoever is selected to run PrimeCo, "said Dan Gocher, climate and environment director at the Australian Center for Corporate Responsibility, a shareholder advocacy group. "Any responsible investor will inevitably avoid" the new generation unit, Gocher said in a statement.
AGL said it was unable to comment on the specifics of ACCR's comments, and referred to its comments investor's day presentation and climate-related financial disclosures statement. Sydney-based company shares extended Wednesday's losses and have fallen about 44% in the past 12 months.

There is international precedent for the type of dissolution that AGL is proposing. German EON SE previously separated the coal plant into Uniper SE. At the flotation in September 2016, Uniper's valuation of about one-third of the book value of EON was applied to the unit just a few months earlier, even though the stock had more than tripled in value.