So ending a heartbreaking, moving, frustrating and strange season MasterChef Australia.
Season 12 of the show features a panel of judges who are all new; contestants from the previous season who were "Back to Win"; and, about halfway through, social distance – which means not hugging at a very large event.
Perhaps the most painful moment of hugging policy is when the king of dessert Reynold Poernomo lost the challenge of eliminating dessert on Sunday, and crying bent over the work table.
Finalists Laura Sharrad and Emelia Jackson, close friends who appeared in the sixth season together, roamed around Reynold, rather often moving their hands.
Then the grand finale appeared.
There is some friendly ribbing. "If anyone beats me, I want to be Laura. I feel a little different today," said French dessert master Emelia.
"He won't win," said pasta-master Laura, who didn't make pasta dishes in the final challenge.
There was drama: while cooking, Laura burned her hand, calling the greatest hero of all, especially this year: a nurse.
There is also intrigue: judge Jock Zonfrillo wearing a skirt.
In the end, Emelia won, because, after a season in which fashion dishes were served – or as the French say, "with ice cream on top" – very, well, fashion a, Laura lost because of the texture of the ice cream.
When the winner was announced, Emelia and Laura embraced illegally, Emelia said repeatedly, "Sorry," when Laura assured her, "It's okay. I'm very proud of you."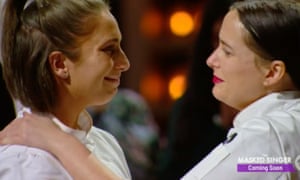 Which brings us to the season in review. Besides ice cream, and according to the event's theme song – Katy Perry's Hot N Cold – the MasterChef 2020 contestants also lost their common sense about the hibachi grill.
Perry himself appeared in episode 24, carrying the most important element in the episode MasterChef: chaos. Poh Ling Yeow took back the baton for the next few episodes until he also got the piece – after that the show became much more boring.
There's the highest: this season features the first female judge and the first Australian judge with Singapore and Chinese heritage, in form Melissa Leong who is universally worshiped, which not only brings in-depth knowledge about food, poetic comments, laughter and sincere encouragement, but a lack of understanding of the history and meaning behind various Asian dishes.
There is a height that is not too high: Jock, owner of the Orana Adelaide restaurant, boasted about eating 34 eggs and one whole cake in his car.
Andy Allen, who won the show's fourth season, used the words "ripper", "beast" and "mate".
And there are lows that are quite brutal, buddy.
Last month the acting immigration minister, Alan Tudge, claimed Australia was not racist because, as he said, at MasterChef "One of the judges is Chinese, has an ethnic Chinese background".
Whereas MasterChef himself celebrated as one of the most diverse primetime shows in Australia, not without blind spots. Yes, there is an all-woman final. But it is conversations about cultural diversity, racism and food that determine this season.
As Jessica Zhan Mei Yu wrote about the Tudge mud, and MasterChef's celebration of its diversity, within Monthly: "The fact that there are some Asian Australians in MasterChef and almost none in, say, Neighbors or Scholars send a clear message to Asian Australians: We don't want to live next to you, touch you, be close to you or know anything about your inner life, but we will take your food. "
That is, as long as the food does not need to be called "fine dining". During the meal challenge, three competing contestants chose French food – but Khanh Ong chose Vietnam, and lost. "Some Asian dishes, for example, don't automatically lend themselves to fancy dining dishes," Jock said.
Melissa continues to be her graceful and noble self, sharing "dozens of talents"; make contestants feel as if their food is being judged by someone who knows what they are talking about; and cried with joy when Poh had a "Malaysian party" – partly because it was carried out perfectly and deliciously, and partly because Melissa missed her mother, as many of us have this year.
Surely there are some important weaknesses this season. But at the very least – like a box of kitchen staples with more ingredients added each time – our debate starts from a more sophisticated place.
As Isha Bassi writes on BuzzFeed, MasterChef 2020 shows us not only "the importance of diversity and representation on prime time television" but "points of progress", but flaws, "for them to build on for the coming season".