In Germany, 42% of total electricity generation comes from renewable sources. Nuclear energy accounts for just over 12% of the mix, with 28% of the total coming from coal-fired power plants.
As the country's energy transition begins, The coal-fired station will close by 2038 at the latest. This is the power plant that has so far reliably balanced all fluctuations in the power grid.
However, wind and solar power plants are not always able to provide the required amount of electricity all the time due to weather and seasonal conditions.
But when renewables provide more than enough power at any given time, it ideally needs to be saved for rainy days. To do that, many companies rely on large battery facilities using old or new batteries from electric vehicles. Three such facilities are located in the western German state of North Rhine-Westphalia.
Termination of employment can be fatal
Even a drop in the frequency of a small line from 50 hertz to 47 hertz could have serious consequences for the German power grid and potentially lead to blackouts. They can occur during periods of prolonged weak winds and cloudy skies in the winter months, This means that there is not enough power coming from solar and wind power generation while demand remains high.
This is why high capacity battery storage facilities are seen as a critical component of a successful energy transition that leads to greater use of renewable energy. "Such storage technology has huge potential," Alexa Velten of the EnergyAgency.NRW service provider told DW.
Cheap electricity – electricity is expensive
It's a technology that benefits the operator. Excessive electricity from renewable energy can be bought relatively cheaply and sold on demand at a good profit.
Velten said it took no more than an hour to get 12 megawatt-hours of capacity. It can be put on the grid as fast as and almost nothing is lost in between. "The self-discharge rate from such a storage facility is only around 4% to 5% per month."
Systems developer from Munich
Munich-based systems developer The Mobility House (THM) is heavily involved in such a storage project. At Werdohl-Elvering, on an abandoned coal-fired power plant site, THM and partners such as Daimler combine 2,000 lithium-ion modules from 600 Smart electric cars to create a power storage plant with a capacity of 10 megawatt-hours.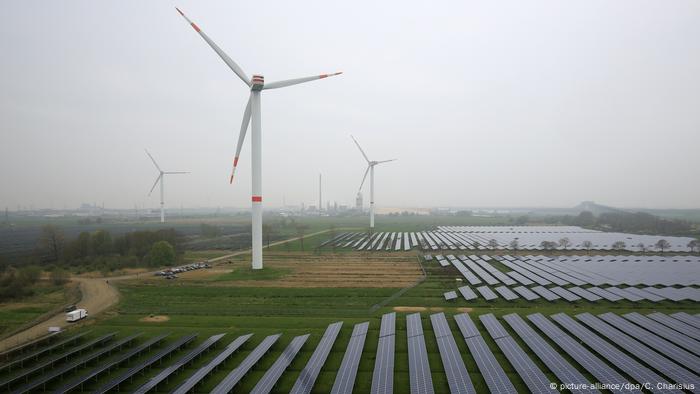 Energy from renewable sources needs to be stored in an efficient manner
A disabled power plant provides infrastructure required a very large power storage facility, on top of all existing power lines. North Rhine-Westphalia has many such sites and therefore suitable for storage facilities.
German utility company RWE has taken advantage of Herdecke's existing power line infrastructure, which was previously home to pumped storage power plants. Meanwhile, the company is installing a 7 megawatt-hour battery array.
Batteries from Tesla
Yet another storage site is in Lünen where waste management company Remondis is helping build 13 megawatt-hours of capacity from 1,000 used car batteries.
Here they use a battery from Tesla, the so-called second-use battery, which the automaker originally made for the first E-Smart. Alexa Velten says the use of these old batteries in storage facilities "extends their life by up to 10 years." Only then do they have to be recycled.
But they will have to be recycled at some point, explaining Remondis' interest in the project – batteries contains valuable amounts of rare earths.
Whether first use or second use – both are capable of storing power from renewable energy. Their demand is sure to soar as more and more coal-fired power plants are disconnected from the grid in Germany.
At the same time, the search for alternative feedstocks for battery production continues, according to Velten. This is because the rare earths needed today to manufacture lithium-ion batteries are not only rare but also very expensive.
This article is adapted from German.